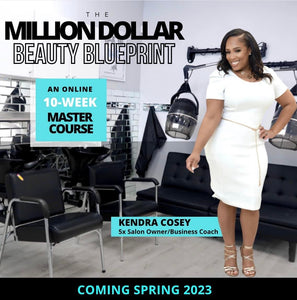 This is a 10 week extensive course, which includes weekly coaching calls. Class will begin at the end of May. The date is tentative, and will be announced via email by mid-April.
Course Curriculum includes:
✏️ Legally Structuring Your Business
✏️ Discovering Your Niche
✏️ Structuring Your Finances
✏️ Identifying and Attracting Your Ideal Client
✏️ Finding an Ideal Location
✏️ Navigating Commercial Leases 
✏️  Branding
✏️ 5-Star Customer Service
✏️ Mastering Sales
✏️ Policies and Procedures
✏️ Systems and Processes
✏️ Specialization 
✏️ Client Retention 
✏️ Ways to Secure Funding
✏️ Hiring and Firing Techniques 
✏️ Employee Training
✏️ LLC vs. S-Corp Taxation 
✏️ Multiple Streams of Income
✏️ The Hair Extensions Goldmine
✏️ Proper Extension Installation Techniques
✏️ Tapping into the Hair Loss Market
✏️ How to Make a Minimum of $1,000 per day ... and more
 PLEASE USE AN EMAIL ADDRESS THAT YOU CHECK REGULARLY. BE SURE TO CHECK YOUR SPAM MAIL SO THAT YOU DO NOT MISS ANY ANNOUNCEMENTS. ALL SALES ARE FINAL. REFUNDS WILL NOT BE PERMITTED.